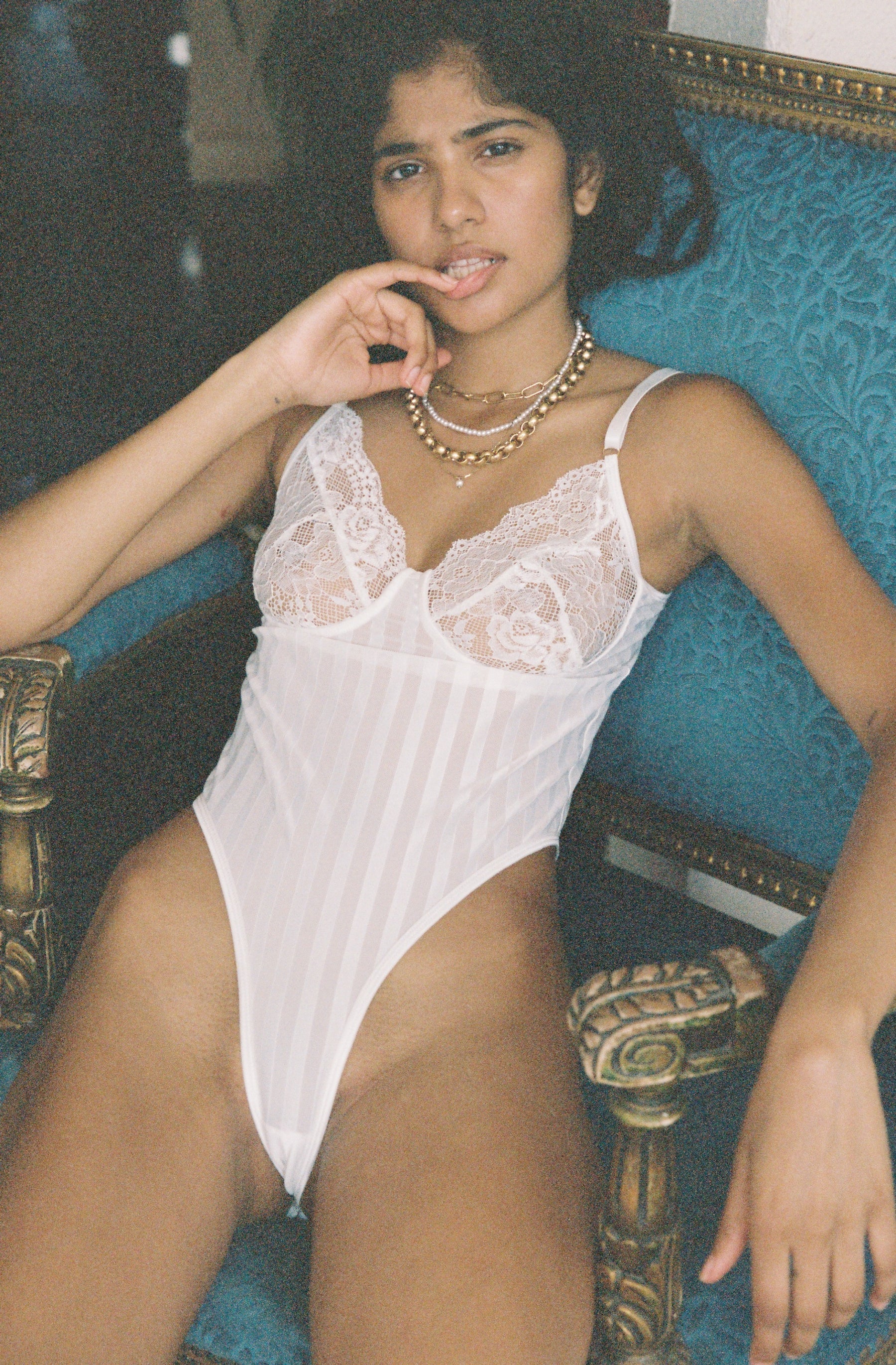 Body Alex White
Only 5 left

Pavo Couture is your go-to destination for luscious lingerie that's both comfy and oh-so-sexy! Founded by Elise van Twillert in 2020, our mission is to give women  the confidence they deserve to help them feel gorgeous every single day. We're about proving that comfort and sexiness can totally coexist- and we're doing it responsibly, using quality materials and dead stock fabric.  
Introducing Body Alex, the ultimate bodysuit in addition to your white lingerie collection. made from striped sheer mesh this bodysuit with exquisite floral embroiedery, this is the perfect white lingerie bodysuit
Crafted from a soft and comfortable fabric, Body Alex is designed to hug your figure perfectly. Alex  features a high waist and loose clasps on the bottom, ensuring easy access and comfortable wear. The breathable and elastic fabric allows you to move freely, making it ideal for wearing under tight or loose clothing or as alluring nightwear.
The strapless design makes it easy to wear under tops or dresses with a low-cut neckline, adding a seductive touch to any outfit. Available in different sizes, you can choose the perfect fit for you. Maintenance is a breeze, simply toss it in the washing machine.
Body Alex is a must-have for anyone who loves stylish and sexy underwear. Perfect as a gift for your significant other, or as a treat for yourself. Don't miss out on this pretty addition to your closet!
Closure: Press buttons at the bottom
Straps & Hooks: Adjustable straps at the shoulders and at the back
Padding: No padding and no underwire
Material: 95% Polyester, 5% Elastan
To keep your lingerie beautiful as long as possible, we advise you to wash your lingerie in a washing bag at 30 degrees.