Het zonnetje begint weer te schijnen, maar dat betekent niet gelijk dat je bruine kleurtje terug komt. Zonnen en onder de zonnebank gaan is natuurlijk erg ongezond, dat weten we allemaal. Gelukkig bestaan er tegenwoordig hele goede alternatieven om toch een gezond bruin kleurtje te krijgen. Deze week laten we jou onze favo zelfbruiners zien, zodat jij zonder schade een lekker bruin kleurtje krijgt. Lees je mee?
In Favo van Pavo delen we elke vrijdag, vijf van onze favo's. De leukste festivals, de beste eettentjes, de origineelste merken, nieuwe films en nog veel meer.
1. Collistar - Body and legs magic drops
Deze zelfbruiner lijkt heel erg op de voorganger, de Collistar face magic drops. Alleen zijn deze bedoelt voor je gehele lichaam. Deze verpakking komt veel goedkoper uit dan een klein potje face drops. Deze zelfbruinende lotion heeft een lekkere, niet zo sterke geur, maakt de huid heel glad en is heel makkelijk aan te brengen. Je hoeft dus niet zo voorzichtig te smeren, als bij een tanning mouse.
Smeer het uit als een reguliere body lotion en je bent ready to glow.
Het komt echt veel goedkoper uit dan het potje drops, maar pas wel op. Deze bodylotion zoals de naam al zegt, is niet persé gemaakt voor je gezicht. 
2. Tan Revel - Spray tan kit
Een spray tan in een kleine verpakking, hoe handig! Waarschijnlijk ben je dit product al bij menig influencer tegen gekomen. Binnen 15 seconden, ja echt 15 seconde heb jij een glow op jouw gezicht getoverd. Voor je gehele lichaam duurt het natuurlijk iets langer! Deze behoort dan ook echt in ons lijstje, snel en effectief. Resultaat zie je namelijk al na 30-60 minuten en het volledige resultaat zie je na 4 uur. Houd de spray op een afstandje en spray jezelf onder! Deze tanning mist geeft niet af op je kleding, dus perfect om te gebruiken vòòr een feestje.
Tip van ons. Zoek op het internet naar kortingscodes van influencers, er is altijd wel iemand met een samenwerking.
3. Marc Inbane - Natural Tanning Mousse
Deze tanning mousse is by far, the owners fave. Deze mousse smeert heel egaal uit en geeft totaal geen oranje gloed. Hoe het werkt? je smeert je na het douchen lekker in met bodylotion, en laat dit goed intrekken. Zodra de bodylotion goed is ingetrokken en je huid goed opgedroogd is, smeer je je in met de tanning mouse. Laat de mousse goed opdrogen en 3 uur intrekken. Je hoeft deze mousse niet meer af te spoelen. Het kan even duren voordat de mousse opdroogt. Om dit proces te versnellen kan je ook je lichaam droog föhnen, zodat het goed opdroogd.
4. Isle of Paradise - Self Tanning Drops
Voor een snelle tanning sessie ben je bij Isle of Paradise aan het goede adres. Voeg 2 tot 12 druppels toe aan jouw dagcreme of bodylotion naar keuze en smeer dit goed uit over jouw gezicht en lichaam. Ja je hoort het goed, deze drops zijn gezicht voor lichaam en gezicht. Doordat. je het mixt met jouw eigen creme's is de kans op onzuiverheden minimaal. Je gebruikt namelijk je eigen skin care. 
Tip van ons, was wel echt goed je handen na gebruik, want oranje vlekken, dat. willen we natuurlijk niet. Wij zien gelijk verschil, maar voor het ultieme resultaat kun je 4-6 uur wachten.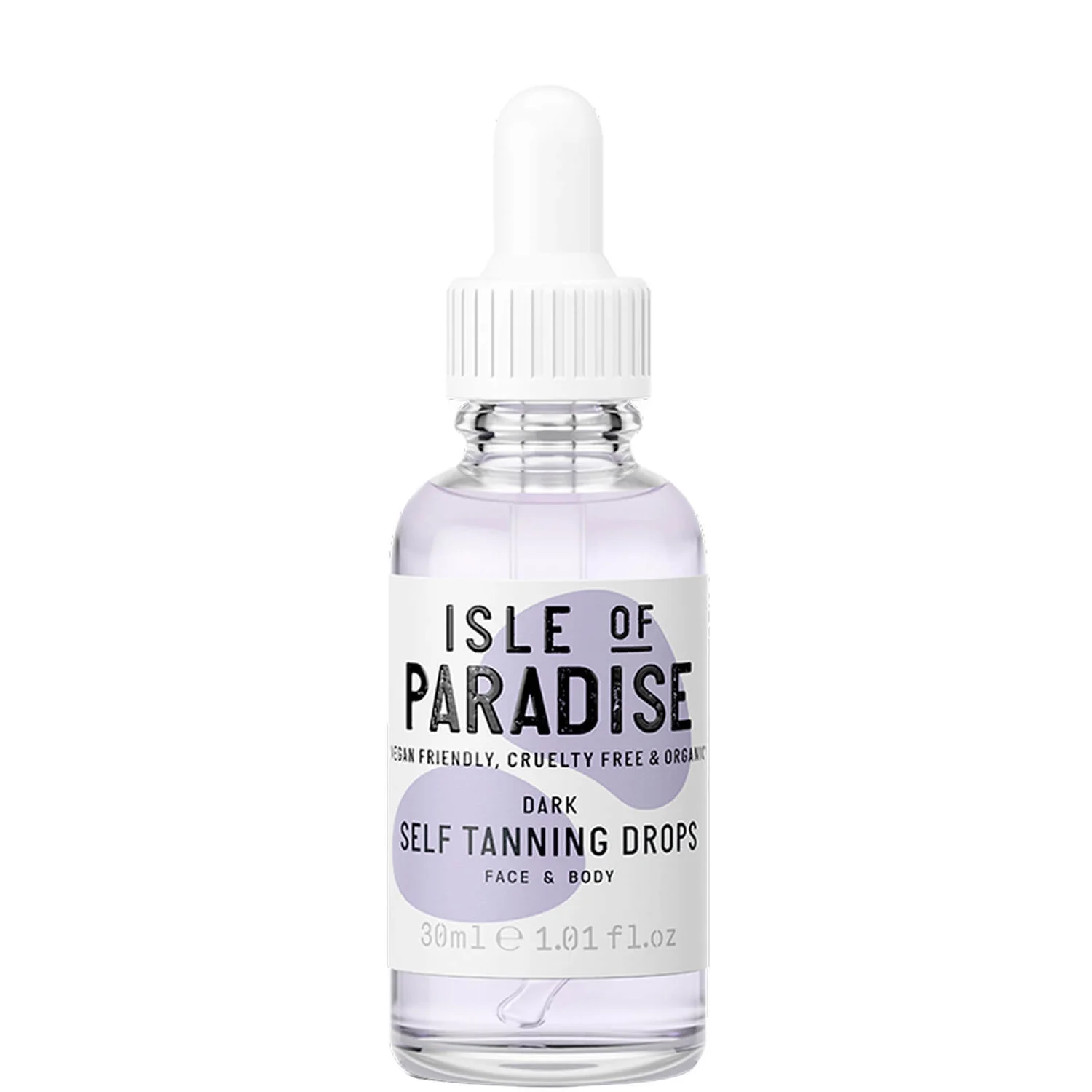 5. Tan luxe - The Body
Deze mag echt niet ontbreken in ons lijstje. Geef jezelf binnen een handomdraai een goud gebruinde glimmende gloed, met de tanning drops van Tan Luxe. Een dupe van de Collistar drops kun je het wel noemen. Deze drops kun je mixen in je body en gezichtscrème om een mooie egale bruine gloed te creëren. 
Deze tanning drops ontwikkelen zich in 4 tot 6 uur helemaal door. Perfect dus om te gebruiken voor het slapen gaan. Word wakker met een heerlijk gebruind kleurtje, alsof je net terug komt van een vakantie op de Caraïben.